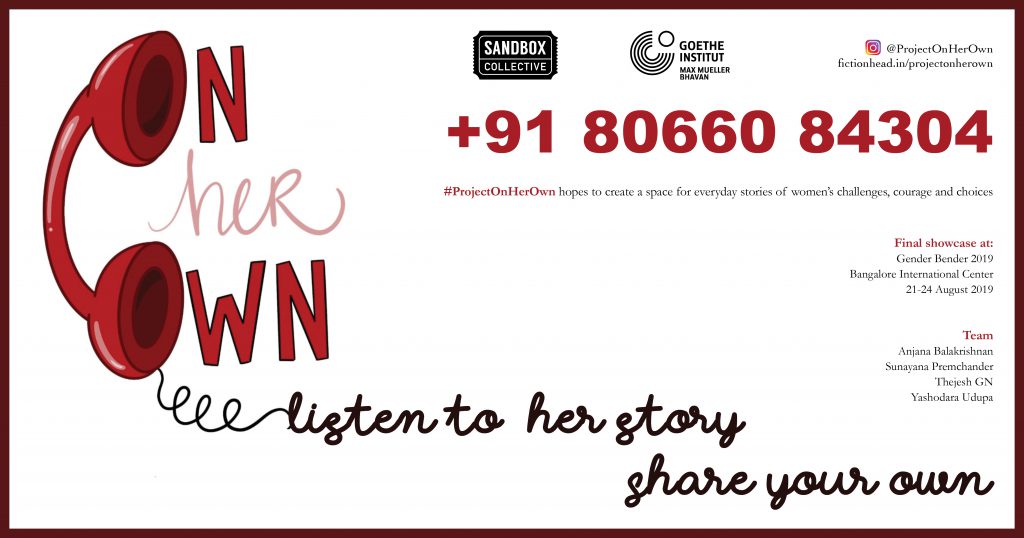 The Concept
Gender is everyday acts of rebellion. It is conditioning to put others before yourself. It is questioning gender roles. It is also just a column to fill in a form. Every person has a story. A story that is connected inseparably to their society. A story invariably coloured by gender. We have all heard stories of the all-forgiving mother, the superwoman teacher or the breadwinner househelp. These are stories of women learning to trust themselves enough despite what society tells them to become their own knights in shining armour.

The Project
#ProjectOnHerOwn is a multimedia exploration through the landscape of women's experiences of self-discovery, self-reliance and self-assertion. It travels through familiar stories about women all of us know. It unravels our moments of silent rebellion and shows us that we are not alone in these. In a world where the non-conforming voice has to fight for space, it is time for the collective to make space for the stories of everyday fight.
How does someone's journey influence our own and of what consequence is someone's story to ours? Our attempt is to document how listeners react to their stories with stories of their own. We hope the stories that emerge will help our audience connect better with women's struggles and celebrate their own stories better.
The Team
Anjana Balakrishnan is a short story writer and editor based in Bangalore. She works at the Indian Institute for Human Settlements. She blogs at fictionhead.in.
Sunayana Premchander is a writer, theatre practitioner and facilitator from Bangalore. She co-founded the theatre group Kathasiyah in August 2015. She has directed two plays, 3 (English, 2017) and Nagamandala (Malayalam, 2018).
Thejesh GN is an independent technologist, hacker, maker, traveler, blogger, info activist, open data and open Internet enthusiast.
Yashodara Udupa is a filmmaker whose work has focused on issues such as human rights, culture and the city. She edited Inshallah Kashmir, which won the National Award for Best Investigative Film (2013) in India.
Extended Team
Anamika Ajay | Saumya Premchander | Mandara Vishwanath | Nagamani BH| GN Mamatha| Malathi Gowda | Pheji Phalgunan | Antara Telang | Gauri Nagpal | Tanvi Bhatikar | Sharanya Nair | Vinay Kumaar | Ranjani Kishnakumar | Ujwala Rao | Nitya Mathur | Shilpa Mudbi Kothakota | Karen D'mello | Anoosha Krishna | Sathwik NN | Bharath Sa Jagannath | Shilok Mukkati| Sanjana Janardhanan | Team Ozonetel | Aditya Nair | Shatarupa Bhattacharya | Kaavya Kumar | Anushya Badrinath | Anurag Sridharan | Anoop Unnikrishnan | Trushna | Shravan Shetty
At Gender Bender – 2019 Festival
Gender Bender is the first festival of its kind in India that showcases new works of art around gender, as a concept, discourse, construct, and as art itself. What started out as a grantee showcase festival has, over the last five years, grown into a much-needed and recognised space for conversations on gender with artists and audiences alike.
Gender Bender is a joint project of the Goethe-Institut / Max Mueller Bhavan and Sandbox Collective. Gender Bender is conceived, conceptualised, and curated by Sandbox Collective.
Media Mentions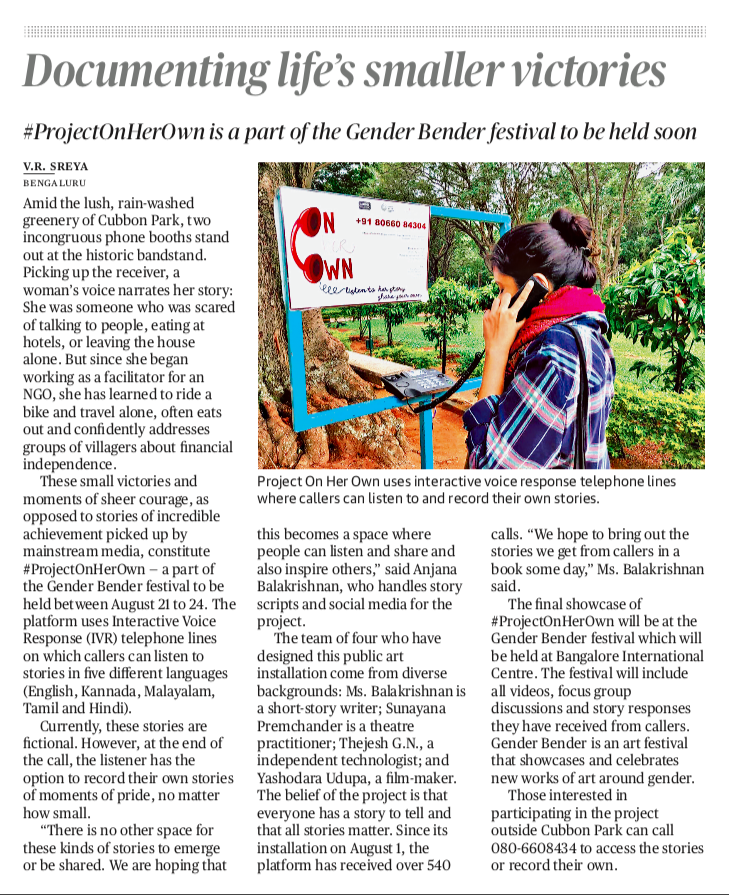 Blogposts
https://ozonetel.com/blog/can-an-ivr-be-part-of-a-work-of-art/