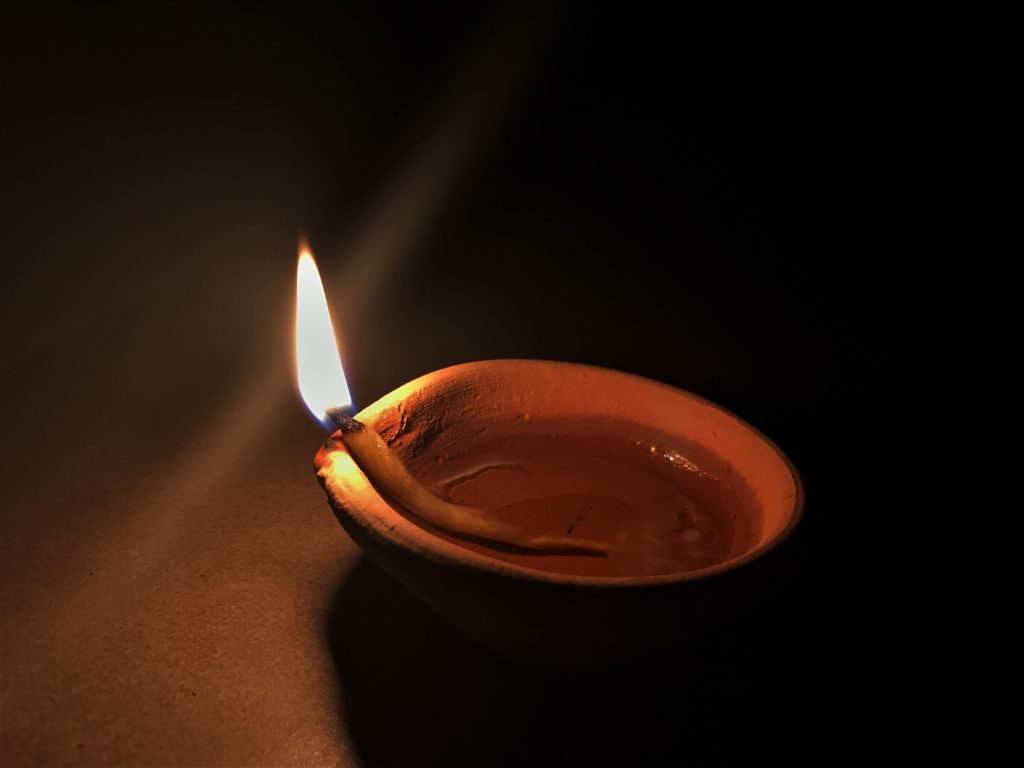 Every Thing We Are is a coming of age novel where Samyukta aka Sam learns that every thing we are is not always on display. This is my first attempt at writing a novel. I started this project as part of #NaNoWriMo2020 before I fell off the wagon. Hope you will read along as I get back to writing it. All episodes of this series are available on the ETWA page. Subscribe to my writing here.
---
Trigger Warning: This chapter contains mentions of sexual abuse of a minor. Reader discretion is advised.
---
The large hall has a high arched ceiling with a skylight that floods the room during the day. In addition to this, strategically designed hidden spotlights focus on the godman at all times making it look like he is glowing. There are thick fluted columns along the length of the hall. Five doors serve as access points to this hall and each door is flanked by a pair of windows.
He is always surrounded by men and women in plain clothes. If you look closely, you will notice that the loose robe-like uniform of his disciples follows some kind of colour-coded organisational hierarchy. He looks like a simple man with no gimmicks about him. He does not have long hair or beard as commonly seen among godmen. He does not sport any accessory other than his constant smile. He hugs everyone he meets in long, comforting hugs that linger.
Every morning by eight, the hall is filled to the brim with devotees. Disciples sing songs in his praise. Some of them dance. Others offer water and flowers to those gathered. After nearly three-fourths of an hour of such adulation has passed, he appears on stage to a frenzied crowd in the throes of devotion. Then he regales them with one story. Once he leaves the stage, his disciples take over with more music and prayers.
Sam sat through this morning's session wondering how one went about booking an appointment with someone who seemed so impossibly unreachable. That's when Mani uncle gestured to the family to get up and follow him. They go through a 'Staff Only' side door that opens into the dark wings of the stage. Through there, they enter another room which resembles a five-star hotel suite. As they enter, one of the disciples, ushers them towards the formal seating area. Sam can see him resting on a huge four poster bed at the far end of the room. Beyond where they are seated is a wooden dining table that could probably seat twelve. But only one ornate chair provides seating at this table.
They get asked if they'd like tea or coffee to drink. But before they can answer, he is with them, smiling that constant smile. He sits down and requests everyone to be seated. That's when Sam notices that his seat looks different from theirs. He is seated on something akin to a two-seater throne. He looks really frail, seated on that humongous piece of furniture. He catches Sam staring at him and gestures to her to go to him. When she does as she's told, he holds her hand and asks her to sit. She looks back at her parents who are pleased that the guruji has taken such interest in her. "What a fortunate girl! Do as you're told, Ammu", they encourage her to make the most of this opportunity.
When she reluctantly tries to sit next to him on the throne, he moves up, making her sit on his lap. "Hahahaha", his smile turns into a hearty child-like laugh. Her parents, Mani uncle and the disciples at his service, all laugh along making a joke of her discomfort. They are in awe of this mahatma going out of his way to put this little girl at ease. He hugs Sam close and continues his conversation.
When she reluctantly tries to sit next to him on the throne, he moves up, making her sit on his lap. "Hahahaha", his smile turns into a hearty childish laugh.
"I know, my child", begins the guruji, addressing Vineeth. "A girl in the house is always a fire in the parents' hearts. Mani has talked to me in detail about your problems. If atonement is what you wish for, it's easy", he says, handing them a list of offerings from the coffee table between them. "If you trust me, you can deposit the money at the entrance and we will get this done." Handing the next sheet out he says, "This is a list of chants for the family. I have marked out the ones specifically for your purpose and the number of repetitions…like a doctor prescribes dosage," he says, laughing at his own joke. "You can make copies of this sheet for free outside."
Everyone in the room except Sam laughs along. Sam can feel his member through his thin, loose robe. It's hardening below her, poking into her thighs. She tries to shift her position to no avail. She tries not to think of it. She hopes this ordeal will end soon.
"Now, the pooja and the prayer can only clear the way for you. To actually root out the problem you have to take serious action. Here, take these birthstone pendants. There's one for each member of the family. You can wear them around your neck or get them fixed onto a ring." he says turning his attention to Sam.
"As for this little girl, let me have a word with her alone. Meanwhile, Mani will show you where to get all these errands done on the premises. Now please leave the room everyone", he says, getting up. Her parents leave the room before Sam can call out to them.
When they are alone, the godman smiles at her, still holding her hand. Sam is shaking. "Don't be scared, my girl" he says, walking out of the room and towards the stage. "Let's talk outside", he says beckoning her to follow him.
He walks right onto the stage and the crowd goes wild. In his soft, soothing voice, he says, "I have a young friend here who needs my guidance. May I request all of you to kindly clear this room. Thank you for coming today. Breakfast will be served outside". In the meantime, someone has pushed Sam onto the stage too and she finds herself standing next to him.
As the devotees leave the room in a well-mannered single file, he motions to his disciples to leave as well. When they do, they draw the curtains that frame all the doors and windows. She can hear people outside but they wouldn't hear her over the din of their voices.
"See, we have this place all to ourselves now," he opens his arms wide, as if he has performed a miracle just for her. He leads her off stage to the centre of the hall with the spotlight still following him around. He makes a performance of walking circles around her. Are you scared now, he asks. "No", she lies. He lets go of her hand and says, "Walk with me then".
"True love is when one finds happiness in the happiness of their beloved, even if they are the very reason for one's sorrow", he recites a half-song, in his melodious voice, as they widen their circles around this rather large room. A couple of rounds later, he holds her hand again. He is telling her a story about gopikas—girls who unconditionally declare devotional love for Sreekrishna.
"Once, a visitor from Mathura goes to Vrindavan. There he meets some of Krishna's gopikas who are still sad that they are separated from him. They take the visitor all over Vrindavan talking him through all of Krishna's childhood antics. Then they ask, how is our beloved Krishna?" he twirls her around and grabs her back in a tight embrace.
"Why? He is living a happy life in Mathura. I don't think he has any plans of returning", replies the visitor hoping to elicit some jealousy or anger from them.
Sam is confused and scared. This is definitely sexual in nature. Is it not? But how can this be? He is a holy man. She squirms around in his embrace trying to get rid of him but his hold is tight.
He twirls her again.
"But the gopikas are really happy for him. Oh, you say our Krishna is happy? That's wonderful, they say, offering the visitor gifts for being the bearer of such incredible news."
Making her sit on his lap could have been for laughs. The erection could have been involuntary, right? But this certainly felt intentional. Sam feels like her feelings and thoughts are all jumbled up in her brain with logic and intention.
When he returns her to his embrace, he tries to kiss her between her breasts. When she wriggles, he squeezes her breasts hard. It hurts. Unable to process, she begins to cry.
He twirls her again.
This time she shakes him off violently and runs away towards the open door at the end of the hall.
Her effort throws him off his feet. As she runs away from him, he stands up and without flinching, laughs his child-like laugh.
Thank you for reading today's chapter. As this is the first draft of the novel, I expect a lot of changes in subsequent drafts before this goes to print. I would love to hear what you thought of this chapter and how I could make this better. Hope you will leave your tips in the comments below.
Young writers like me need new readers. Subscribe to support my writing:
[jetpack_subscription_form show_subscribers_total="false" button_on_newline="false" custom_background_button_color="#36bcab" custom_font_size="16″ custom_border_radius="0″ custom_border_weight="1″ custom_padding="15″ custom_spacing="10″ submit_button_classes="" email_field_classes="" show_only_email_and_button="true"]
Next chapter | Ch15a: Sam's Day Out