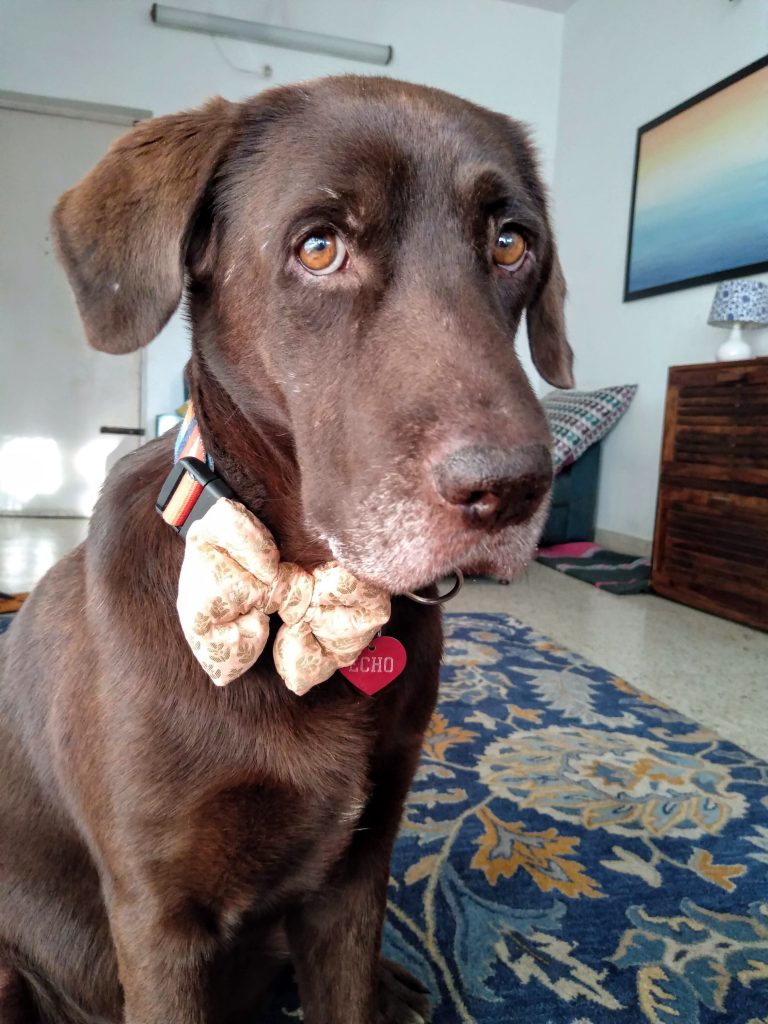 The Dog We Stole is the definitive biography of Her Majesty Begum Pathumma. This is the fifth episode of the series. Read E1, E2, E3 and E4 before reading further.
Entitlement was her scent of choice, surrounding her in a whiff of superiority. Pathu walked with her head held high and a spring in her steps. The way she swung her hips, you knew that she knew she was beautiful. Grown men including her vet swooned over her shiny caramel coat and the artistry of the white markings on her face. Meanwhile, our indecision paled in comparison to her composure. The dog rescuer had found us a prospective adoptee. They were looking for a six month old female indie pup. What were the odds? However, before we were forced to make a choice regarding Her Majesty, a Covid case was detected in their building. They were out of commission and unable to travel for a fortnight. We retreated into the comfort of our indecision.
This is a good time as any to introduce Echo. No one would believe this. Not even the both of them. But Echo is Pathu's elder brother. They act like living under the same roof is the biggest injustice of their lives. But it's true. They are siblings. Echo is a big, friendly fellow who is quiet and well-mannered. Well, until when he is not! He has been known to be goofy, aggressive and wilful. Essentially Echo is a glossy dark chocolate cake with a surprise raspberry ganache. But that's another biography all together. If Pathu knew that I was writing about him in her biography, she would make a snack of me for sure.
Echo! Pathu! I wasn't sure if Pathu even knew her name.
A long day of work had us in its clutches. I was hanging from an online event and he was being strangled by the octopus digits of an endless call. Around dusk, someone rang the bell prompting a short canine duet from our brood. As I was video-trapped, he extricated himself to open the door. The sequence of events following this is still a mystery to us. Over an hour later, my event let me go and I came out of my room to find the main door wide open. The dogs were nowhere in sight. I called out for them in vain. Echo! Pathu! I wasn't sure if Pathu even knew her name. I shouted for him. We panicked together. Rain and the raintree were having a stormy argument outside. He ran out of the house in search. The dog we stole has made a dash for freedom with her brother in tow.
Sign up to bring Pathu to your inbox!
[jetpack_subscription_form show_subscribers_total="false" button_on_newline="false" custom_font_size="16″ custom_border_radius="0″ custom_border_weight="1″ custom_padding="15″ custom_spacing="10″ submit_button_classes="" email_field_classes="" show_only_email_and_button="true"]
That's all for this week folks! Would you like me to continue this series? Let me know in the comments below.
Next Episode | E6: The Search Mission